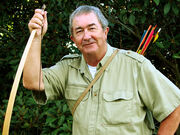 John Flanagan is the author of The Ranger's Apprentice series.
John has a wife, two daughters, one son, and four grandchildren.
Location
Edit
John lives in the northern beaches suburb of Manly in Sydney, Australia.
John began in advertising . Then he switched to television and worked for eight years on a comedy called "Hey Dad!", along with others. Then, John started doing corporate work: conferences, corporate songs and other things.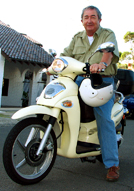 John has a 150 cc motor scooter.
John played in an acoustic band for over thirty years.
John plays the guitar and the mandolin.
John has a longbow.